Land Acknowledgement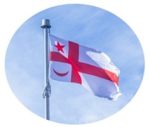 The Nova Scotia College of Counselling Therapists would like to respectfully acknowledge that we do our work in Mi'kma'ki, the ancestral and unceded territory of the Mi'kmaq People. This territory is covered by the "Treaties of Peace and Friendship" which Mi'kmaq and Wolastoqivik (Maliseet) Peoples first signed with the British Crown in 1725. The treaties did not deal with surrender of lands and resources, but in fact recognized Mi'kmaq and Wolastoqivik (Maliseet) title and established the rules for what was to be an ongoing relationship between Nations. As we strive for respectful partnerships with all the peoples of this beautiful province in search of collective healing and true reconciliation, we also acknowledge the histories, contributions and legacies of the African Nova Scotian people and communities who have been here for over 400 years.
Mi'kmaq Flag Commonly referred to as the Santéé Mawióómi flag or the Míkmaq Grand Council Flag, the wapéék (white) denotes the purity of Creation, mekwéék klujjewey (red cross) represents mankind and infinity (four directions), náákúúset (sun) represents forces of the day, and tepkunaset (moon) signifies forces of the night.
The Wolastoqwiyik Nation Flag incorporates many elements that are culturally significant. The canoe and paddle represent our ancestral technology of transportation of the birchbark canoe and ash paddle. The river symbolizes not only who we are as People of the Beautiful River, Wolastoqwiyik, but also our river highway that keeps us connected to all of our communities. The fiddlehead double curve designs in the corners are emblematic of our symbol for life, generations past and present and our traditional food source. The colours in those designs incorporate the four sacred colors of creation and the colors blue for water and tan for the land and islands. The salmon in the center has been another source of sustenance for our people and embodies the spirit of resilience and strength of our people. The deep green of the flag itself represents the earth. The flag is used by all of the Wolastoqwiyik Nation and is respected as a symbol of our unity.