Statement on Anti-Racisim
"In a racist society, it is not enough to be non-racist. We must be anti-racist." – Angela Davis
The Nova Scotia College of Counselling Therapists is an anti-racist organization. We are committed to creating an environment where Black, Indigenous and people of colour employees and registrants are safe, valued and respected. We are committed to examine and take action against the multifaceted nature of racism in Nova Scotia and Canada. Racism is dehumanizing to everyone it touches.
The values of Counselling Therapy are consistent with upholding and working toward social justice for all. The College and its registrants make-up a caring community; welcoming and respecting diversity and striving toward social justice. Racism must be examined beyond the actions of individuals in order to recognize how it is embedded in the fabric of society and its institutions.
We acknowledge that racism can be unconscious or unintentional, and that identifying racism as an issue does not mean that those involved are necessarily racist or that they intended the negative impacts of their behaviour. As we make this organizational commitment to anti-racism, the College vows to purposefully identify, discuss and challenge issues of race and the impact they have on our organization, its people and the community. We will also challenge ourselves to understand and correct inequities in our policies and processes.
We are resolved to explicitly and publicly affirm our identity as an anti-racist organization.
We are resolved that our anti-racism efforts be reflected in the life and culture of the College through our policies and practices as we continue to learn about racism.
We resolve to develop and work to implement strategies that dismantle racism within all aspects of the College and among its practicing registrants.
Our goal is to create and maintain an environment where everyone working for, and working with, the College feels safe to discuss issues of race and racism and the impact it has within our organization and to our lives outside of work.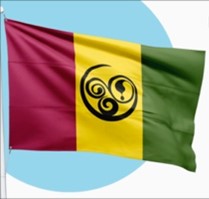 The red represents blood and sacrifice.
The gold conveys cultural richness.
The green symbolizes fertility and growth.
The black stands for the people.
The wave in the bottom centre has a dual meaning, representing the ocean and movements as well as honouring the journey of African Nova Scotian ancestors through the middle passage during the slave trade.
On the left is half of a stylized heart (a version of the Sankofa symbol) with a yin and yang-like symbol embedded to represent heartbreak balanced with awareness.
The image is encompassed with an incomplete circle representing those.